Integrated Development of Horticulture (MIDH)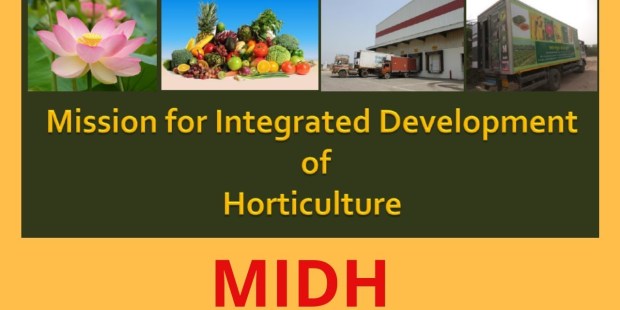 Objectives of the Mission are:
The mission for Integrated Development of Horticulture (MIDH) is a Centrally Sponsored Scheme for the hopstic growth of the horticulture sector covering fruits, vegetables, root & tuber crops, mushrooms, spices, flowers, aromatic plants etc. At present this scheme is implemented in the state with a funding pattern of 60:40 i.e. Government of India (GOI) is contributing 60% and 40% is state share.
Type of Projects
There are 2 types of plants covered under this scheme
Project-based
No- Project-based
1. Project-based
1. Mushroom
(a) Composting
(b) production unit
(c) Spown making unit
2. All types of cold stores
How to apply for project-based
1. Application to district horticulture officer
2. Bank sanction letter
3. Map of the project
4. Farad of land
5. Detail project report (3 copies spiral binding with soft copies)
6. Training Certificate
7. Copy of Quotation
Terms & Conditions :
(A) Above document must be provided initially then the case is sent to the head office after approval from the Head office project will be started.
(B) On completion of the project it is inspected by the group of officers (PAU Nominee, Local Ho, district head, bank officer)
(C) After inspection, the report will be submitted to head office so the subsidy is then provided to the beneficiary loan account.
Non-Project based :
1. For New orchards
2. Poly house
3. Beekeeping
4. Vermicompost



How to Apply for Non- Project-based :

1. farmer register on horticulture portal

2. Fill the application form

3. Farad of land

4. Passport size photo

5. Bank account details

6. Bill of expenditure

7. Lease details (If the land is on lease)